---
Welcome to The MDGenWeb Project's Getting Started page. If you are a first time visitor, I hope you will find this information useful and that it will help you get your Family Tree started. If you are a long-time friend of the MDGenWeb Project, then thanks for supporting this project! Please send email to State Coordinator Shari Handley or ASC Rebecca Maloney if you have any research tips or sources you think would be valuable to our visitors.
Congratulations! You've Finally Decided to Trace Your Family Roots!
Genealogy, or the recorded history of one's ancestry, can be one of the most rewarding experiences, or one of the most frustrating, depending on your understanding of the science, your willingness to search, search, and search, and your dilligence/discipline for taking well-written notes. It is not an easy task, although you may be successful right from the start, and it will probably take you many years to accurately record your family's history. Is it worth all the effort? Well, that depends on YOU, the researcher. Are you interested in "just the facts" or are your ancestors "real people" who lived, loved and died generations ago? For most researchers, I think, the study of one's ancestors combines both of these aspects. There is a general concensus that finding out "when and where" our ancestors came from is less important than "who they were and why they did what they did (i.e., cross the Atlantic in search of freedom from persecution)." The balance comes in that as we find treasured momentos of our past we also accurately record the "facts" - those troublesome dates. The quality of your research today will determine its' usefulness to your children and to your children's children!
Let's Start At The Very Beginning
Most good genealogy books will always suggest that the best place to start your family tree is with YOU. If you like you can purchase standard genealogical record sheets (normally called Pedigree Charts or Ancestor Charts and Family Group Records) at your local genealogical supply bookstore (check your Yellow Pages). You can also purchase a computer program that will track all your recorded data and print out a variety of reports. Some of these programs are available as internet shareware (free to $50) and others are available commercially. Try Cyndi's List for links to the dizzying array of what's available.
You can always, of course, do it the old fashioned way, simply begin to write your family history in a notebook, use 3x5 index cards, type it in a word processing file, or even single sheets of paper. Whichever method you choose, however, make sure you keep neat and tidy notes. Always provide reference sources such as books, magazines, family bible, even personal communciation. This will make retracing family lines so much easier in the future.
So What Exactly Is A Pedigree Chart?
No, we are not talking about dogs, cats or horses here. But the term is aptly applied to both - and is used primarily to show one's lineage (yes, you and King Woof-Woof have something in common). A Pedigree Chart is a chart that diagrams you, your parents, your grandparents, ad infinitum. Pedigree charts are useful when you want to see your entire family lineage at one time. To see a sample pedigree chart, click HERE.
Don't Forget Your Family Group Records
A Family Group Record is just what is sounds like, a sheet that contains all the people related to one another - i.e., your immediate family. This is the most important record you can keep on your family. It will contain all the "facts" relating to you, your parents, and your brothers and sisters. Dates are the key ingredient here, lots of them - birth, death, marriage, as well as locations - birth place, death place, marriage place, burial place. Usually the Family Group record has extra space for adding pertinent family information such as military service, special commendation, and of course, your references. To see a sample family group chart, click HERE.
Do I Really Need References?
I know, you're not compiling a family book or writing your graduate thesis but references are vital to the authenticity of your research. Why bother spending hours in the library looking over ancient microfilm to get that one special name and then forget to note where the information came from?? At some point in your research you will be in a quandry about one of your ancestors -say, his name is Michael (hint - this is my ancestor). All your records say that his name is Michael but then you find a key source that says his name is not Michael but James Michael. Now this still would not be a big deal but you remember that his father is also a James Michael and much of your information is not date specific- which one belongs to which reference? Your reference notes will save you hours of re-research to clarify your one or two uncertainties.
OK, Can I Begin Now?
Yes, go call your relatives and begin asking them for information on your ancestors. Start by writing down your own personal family information. Then add your parents, and their parents. Try to get as much family history from your relatives as possible. If you don't know birth and death dates, make sure to get approximate year ranges (i.e. 1950s). Once you have fleeced your relatives you can begin to obtain some vital records that will solidify your research. To find out about obtaining a Maryland Birth or Death Certificate from the Maryland State Archives, click Archives Vital Records. To obtain a birth/death or marriage certificate for yourself or your immediate family, click State Vital Records. Note: The Division of Vital Records, part of the Department of Health and Mental Hygiene, issues "certified" copies only - these are for you or you immediate family. For older relatives, say your grandparents, click on the MD Archives link!
Where do I Go From Here?
Once you have a good amount of basic family information (say 2-3 generations) you can begin to contact local historical and genealogical societies in your ancestor's county of birth/death. Researchers to Maryland are very fortunate to have access to some of the best state resources: from the Maryland State Archives to the National Archives to local county Historical and Genealogical Societies - Maryland has much to offer!!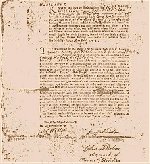 Click on the image to see a sample document.
If you are not local to this county or live within driving distance, you can conduct your research through the LDS Church. Each LDS community maintains a Family History Center, or "FHC". Hours will vary and this library is staffed by both church and non-church members. You can check your local yellow pages to see where a FHC is located near you. To find a local MD FHC, click Maryland FHC Locations.
Some of the resources you will find at your local FHC are:
The Ancestral Files- a CD-ROM program maintained by the LDS church that accesses millions of files submitted by church members. Each record is in pedigree and family group record format for easy viewing. Note: many of these records are inaccurate - some of the data was collected by folks who didn't always follow the dos and don'ts of genealogical research. This program, though, is a great starting point!
The International Genealogical Index - a CD-ROM based program that is categorized by country, state, county and contains millions of public domain records (census, marriage records, bible records,etc.). This is a great tool and can be really helpful early on.
Published Reference Volumes and Periodicals - each FHC maintains a reference library. Some of these family history and genealogy books are old and are out of print but are very worthwhile. Many FHC's maintain subscriptions to Society Newlsetters, State Historical and Genealogical publications, DAR, and many more. The center will also have map books, Census Schedule indexes, published research guides and tips.
Microfiche and Microfilm - The FHC will also maintain thousands of rolls and sheets of microfilm. These records were duplicated at the main library in Salt Lake City and are available for your use. One of the best sources is the U.S. Census records for 1790 -1850. These are microfilm and can be viewed by the FHC's reader machines. The Census records will give you family group information for 1850 (father, wife, and children plus approximate ages). The early census schedules will just list family heads. The FHC will also have the 1860 Index on CD-ROM. In addition to these films, you can also order film from Salt Lake City for 1860 - 1920 as well as Soundex codes (records by last name spelling -phonetically) and other filmed genealogies.
Can I Use My Local Library?
Absolutely. In fact, Maryland has some truly wonderful county public libraries that offer extensive listings of genealogical research materials. Many also have volunteer or paid staff to help researchers with questions or even conduct basic searches (please check the fee schedule for research/copying fees). For a complete listing of Maryland Libraries, click MD Libraries.
What About The Internet?
Well, you've found us - so you now have access to the entire USGenWeb Project! The internet community is bursting at it's seams with genealogical data, family homepages, bookshops, resource groups, newsgroups, and commercial service providers such as Ancestry.com. You can find a wealth of materials online - but you have to look for them. Many of the main search engines like Yahoo list sources but your best bet is to "surf the net" and see what you find! To get a good start on the online resources available, make sure to check the "Links" section of our homepage and see some of the links are available currently.
Lastly...
Your research is just that, it is yours. Make it fun and try to keep a good attitude. Research will have it's ups and downs so be prepared to stick with it. Don't give up because researchers like me are counting on people like you to keep our State and Family history alive! And besides, we may be related and you may have that missing link that I have been searching for for years!!
(Written by Carol Hepburn, the former Maryland State Coordinator)
© 1996 - Shari Handley, The MDGenWeb Project